All About Us!
Derbyshire Specialist Aggregates have been heavily involved in aggregates for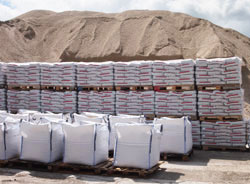 the last 30 years initially in pebbledash chippings and landscape aggregates for paths and drives. This focus on specialist and coloured aggregates led on perfectly when the resin bonded and bound markets in the UK started needing clean, dry, coloured aggregates of a high quality and consistency.
All Over The World
We source materials from all over the UK and World Wide to give an unrivalled range of colours, sizes and shapes to suit all applications. Our secret to maintaining a high standard of product and service is by keeping thousands of tonnes of raw material and finished product in stock at our central processing plant in Derbyshire.
The Process
Initially materials are washed to remove surface dust and grit through one of our two tumble washers with some regrading done here, then the product is left to drain for a few days before going through one of the two rotary drying plants.
In the driers they are heated to dry the aggregates and in the process tumbled to ensure any grit or dust is liberated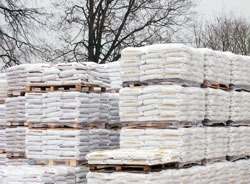 from the stones prior to screening. The screening is vital to give a final clean of the product where screening top and bottom ensures a consistent grading. The product is then cooled and bagged into polythene bags, shrink-wrapped and stocked on pallets of 40x25kg bags, ready for despatch. Product runs in excess of 100 to 300 tonnes ensures a reliable material output, whilst stock holding of 2000 to 3000 tonnes of finished product means we are ready to deliver to factory, yard or site in full loads or by pallet courier whenever required. The next day if needed!
Complimentary Products
In addition to the resin bonded and bound aggregates we also supply rubber for resin bound play surfaces and colour coated quartz, granite or bauxite for flooring and road markings.
Whatever your needs, large or small we have the knowledge, products and experience to help with any questions you may have. The coloured quartz aggregate is great if you're looking for something different to the usual resin bonded aggregates, these pigmented aggregates are available from 0.1mm and can be created to any RAL colour to create motifs, logos and to adhere to specific colour schemes.
We are very proud of our operations and products at Youlgrave in Derbyshire, but don't just take our word for it! Anyone in the resin aggregate business is welcome to come and see for themselves the care we put into making these products, our extensive range of products and to take away any samples needed. Call today to arrange a visit or just pop in, we will be happy to assist you in any way.
Call 01629 636500 or email sales@derbyaggs.com